You are here
JUST COOK Healthy Ageing - Stories of Change
So far this year, 9 JUST COOK Healthy Ageing Programmes have been completed across the wider Auckland area - 3 Orewa, 1 Milford, 1 Papakura, 1 Manurewa, 1 Te Atau South, 1 Waiuku, 1 Meadowbank with more planned for South Auckland, West Auckland and Orewa. These programmes within the Auckland region were made possible with support from Louisa and Patrick Emmett Murphy Foundation, The Ted and Mollie Carr Endowment Trust & Estate of Ernest Hyam Davis and Community Organisation Grants Scheme (COGS) Rodney.
Three programmes have been confirmed to be delivered in Rotorua. Funding has come from COGS Rotorua and Rotorua Energy Charitable Trust.
COGS Mātaatua funding has been received for two programmes to be delivered in the small rural Eastern Bay of Plenty communities of Waimana and Taneatua. 
We were fortunate to receive a small grant from the Ministry of Social Development which enabled us to redesign our teaching resources. The JUST COOK Healthy Ageing facilitator and participant handouts show older people engaging in meal preparation and socialising together.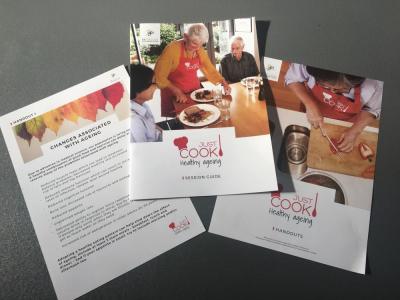 Of course programme success is only as good as the people delivering the programme. We are fortunate to have 8 skilled and committed facilitators to deliver who are passionate and committed to improving the lives of older people. Their dedication and skill is invaluable.
"Stories of Change" gathered from recent programmes.
Saying goodbye to take out meals
(The following email was written by a participant supporting his disabled wife who is no longer able to do any cooking. Prior to the programme he would buy in their meals because he was not confident in the kitchen)
"Your tuition has been really priceless to me. The main thing I learnt was the 'pre preparation' which I had always seen in the tv cooking programmes but never appreciated the value until I attended your course. Your handout recipes have been tried and expanded/altered in various ways and now I am trying out recipes in cookbooks. (using heaps of 'pre-preparation' dishes). Also cooking extra and now have all sorts of meals in the freezer. The item I would also like to let you know is that I have never purchased any meals from 'McDonalds', 'Manly Kitchen', the Pizza shop, Roast chicken meals from the Takeaway shops etc since attending the last class with you. That even amazes me.
Also, my wife is really happy with and enjoying what I am cooking (or at least that is what she says (:-))
Once again thank you, thank you it has opened a new outlook for me in the kitchen"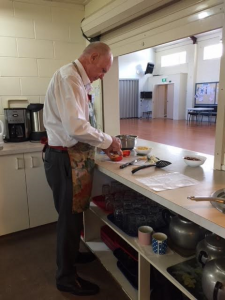 Expanding circle of friends
Mr F is an elderly Sri Lankan living by himself in Auckland. When sharing why he enrolled in the JUST COOK Healthy Ageing programme, Mr F confessed he could only boil an egg; he relied on takeaways and friends for his meals. He rated himself as having poor nutrition knowledge, motivation and confidence when it came to preparing his own food.
From the beginning of the 4-week course, Mr F was an engaging and warm individual who thrived on the social interaction the group provided. As a result of the course, he learned new skills in the kitchen, expanded his recipe repertoire, grew in confidence and triumphantly stated he'd given up the takeaways. The course had given him the motivation and confidence to try new foods and flavours. Most of all, Mr F valued the socialisation of cooking with his peers to such an extent that he offered to run a Just Cook program so that others like him could benefit as greatly as he did.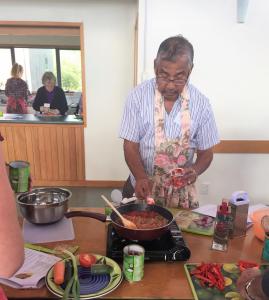 Changing attitudes
One of the participants from the Papakura group put her new skills into practice each week going home and trialling the recipes she had just mastered on family members. This greatly improved her confidence, abilities and dietary variation. Previously she just prepared the same meals and wasn't that motivated to cook. Now she is empowered to try different things from the recipe book.
Two of the men in the Papakura group were not very confident in the kitchen, to begin with. When they were at school, cooking and sewing were only for girls, while they were in the woodwork and manual classes. After work, their wives cooked for them and it wasn't until recently when their wives have been less able to cook that they had to take on this domestic duty. By the end of the programme, they were competently preparing recipes with little guidance and feeling much more confident to give it a go at home.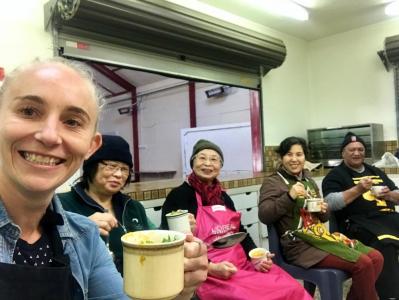 Taking the first steps
Overall the Waiuku participants required motivation to cook, they were keen to understand what they needed to eat for their age and stage of life and to develop the cooking skills to meet their needs.
Decisions made by group members:
plant new herbs in their gardens
obtain new cooking equipment from the Church Op Shop like a blender for soups and ramekins for the tuna fish pies and fruit crumbles
planning the weekly shop starting with a menu plan each week.
sharing ways to buy affordable local food as 4 were living by themselves and wanted healthy, tasty affordable meals
(The below feedback is from one of the Orewa participants)
"I can't thank you all enough for today. I knew I was going downhill in the cooking/eating department and slowly losing weight but perhaps today highlighted the enormous step I need to take to get back on track. I actually cooked myself a decent meal tonight and that's after a superb lunch"