You are here
JUST COOK for Healthy Ageing: Our Beginnings
JUST COOK 4 Healthy Ageing was developed in response to research carried out by the NZNF in late 2015/ early 2016 which showed there was a community need for sustainable (cheaper) cooking and nutrition programmes outside of the Canterbury District Health Board (CDHB) region. The NZNF had delivered 13 Senior Chef Programmes across the Auckland region in 2016 and while they very successful, funding them was a big problem. The new programme is shorter and focuses on planning, preparing and cooking affordable meals for 1 or 2 people. The focus is on meeting the Food and Nutrition Guidelines for older people in a culturally appropriate manner.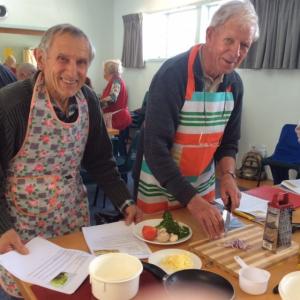 The programme
In 2017 New Zealand Nutrition Foundation (NZNF) developed JUST COOK 4 Healthy Ageing. This 4 week programme has a combination of practical and theory based experiences which aims to
build cooking skills,  
Improve motivation and confidence to cook,
improve knowledge of healthy food choices
educate on how to cook meals on a restricted budget
address social isolation amongst older people 
The project has been piloted in six Auckland locations in 2017 in partnership with the Selwyn Foundation. Programmes were held at Henderson, Mt Albert, Royal Oak, Grey Lynn, Glen Innes and Papatoetoe. Programme evaluations show that people improve their motivation and confidence to cook as well as making positive change to eating patterns. Participants speak of new friendships and a stronger sense of community.
In 2018, the NZNF is able to continue the JUST COOK 4 Healthy Ageing programme within the Auckland region with the support of Louisa and Patrick Emmett Murphy Foundation and The Ted and Mollie Carr Endowment Trust & Estate of Ernest Hyam Davis.
Office for Seniors, Ministry of Social Development has granted funding to NZNF to extend the reach of JUST COOK 4 Healthy Ageing beyond the Auckland region and build capacity to ensure the stability and long term success of the programme.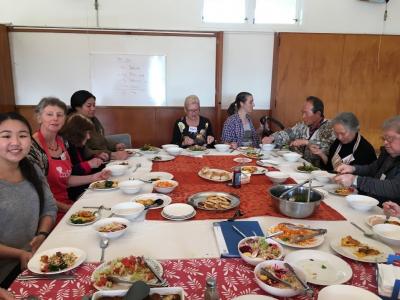 JUST COOK 4 Healthy Ageing Indian Style
One of the 6 pilot programmes was delivered by Anuradha Sharma (Sport and Recreation Graduate, AUT) to 18 participants from the Indian Papatoetoe Selwyn Centre Community. Participants ranged in age from 60- 85 years and consisted of equal numbers of male and female. This programme was a first for this community who were keen to learn about healthier ways of eating traditional food and nutritional ways to improve their health. Anuradha modified the existing programme to make it easier for Hindi speaking participants to understand and follow. Changes to the existing JUST COOK 4 Healthy Ageing cookbook were made by adding nutritious Indian recipes. The participants particularly enjoyed the process of cooking and sharing the meals with each other. Some of their favourite meals included the Spicy Pumpkin and Kumara soup and Chickpea Roti. The programme evaluation reveals that the participants are now gradually making nutritional changes to their lifestyle, "I've become more conscious of my sugar levels and it's coming down now", "I eat more vegetables now".