You are here
Vegetarian Meals
Vegetable Frittata
Serves 2
Ingredients
1 medium Kumara / potato (peel & diced)
1 medium Onion, diced
½ Capsicum, chopped
2 large Mushrooms
1 t Paprika
1 t Oil
4 Eggs, whisked
1-2 T Milk
½ cup Grated tasty cheese
2 T Parsley, finely chopped
Salt and pepper to season
Method
Cook Kumara/ potato in boiling water until tender. Drain well.
In a fry pan gently sauté in oil capsicum, mushrooms and paprika. Add cooked Kumara/ potato.
Whisk eggs and milk together in a bowl. Pour over vegetables in fry pan and return to element. Cook until the egg is set around the edges. Sprinkle over grated cheese.
Place under the grill oven until lightly browned and egg is cooked.
Tip: Serve with a fresh salad.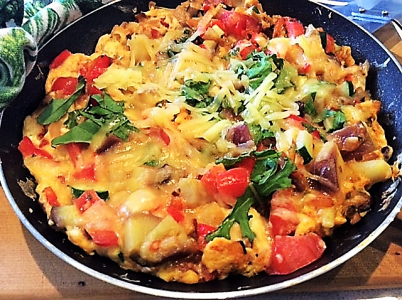 Vegetarian Chilli
Serves 2
Ingredients
1/3 cup Bulgur wheat
½ cup Crushed tomatoes
1 t Garlic, crushed
½ cup Onion, diced
1 cup Fresh vegetables, chopped (carrots, celery, courgette, capsicum)
½ t Cumin powder
½ t Basil, dried
¼ t Chilli powder or sweet chilli sauce to taste
1 can (400g) Kidney beans, drained
1 T Tomato paste
1 T Red wine
1 T Olive oil
1 T Lemon juice
Method
Bring crushed tomatoes to the boil in a saucepan. Add bulgur wheat and allow to cook for 15 minutes. Add a little water if bulgur wheat starts to stick.
In a fry pan, sauté onions and garlic in olive oil until soft. Add the cumin, basil and chilli powder and cook for 1 minute, then add vegetables. Add the tomato bulgur wheat mix and the remaining ingredients. Simmer covered until vegetables are until tender.
Serve hot with grated cheese, and chopped parsley.
Or with sour cream
Or plain yoghurt
Or with chopped avocado
Tip: can be served with toasted wraps or homemade pita crisps on the side.