You are here
Soups
Croutons
Serves 2
Ingredients
2 slices Wholemeal Bread
1 T Olive Oil
Method
Preheat oven to 160 °C. Cut bread into small cubes. Place the cut bread into a baking tray.
Drizzle with oil and bake for 10 - 15 minutes or until golden. Let cool.
Store croutons in a covered container or plastic bag.
Serve in soups or salads.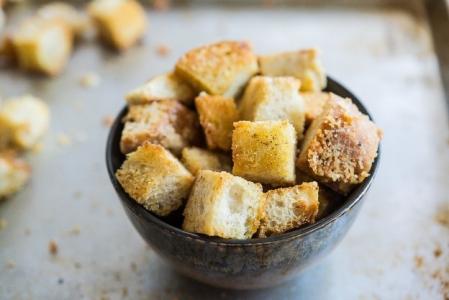 Thai Kumara, Pumpkin & Lentil Soup
Serves 2
Ingredients
1 small Kumara
¼ small Butternut pumpkin
1 Small Onion
1 T Vegetable oil
¼ cup Dried red lentils
can (125g) Crushed or chopped tomatoes
1 t Garlic (minced)
1 t Red curry paste
can (125g) Lite coconut milk
350 ml Boiling water
Salt and pepper to taste
Small handful of chopped herbs to garnish
Method
Peel and cut kumara, pumpkin and onion into small chunks.
In a large saucepan sauté onion, garlic, lentils and curry paste in the oil.
Add tomato, kumara, pumpkin and water. Simmer gently for approximately 30 minutes or until the lentils and vegetables are soft.
Remove from heat and puree using a stick blender (or mash with potato masher). Check seasoning and add salt to taste.
Stir through coconut milk. Garnish with herbs and serve warm.
Tips: Serve with croutons or toasted pita bread.
Use the leftover coconut milk in the chia seed puddings (refer sweet treats section) and tomatoes in a meat stew or pasta sauce.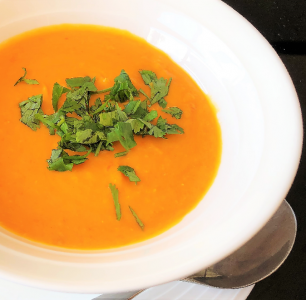 Carrot & Coriander Soup
Serves 2
Ingredients
1T Oil
1 t Ground coriander
1 t Minced garlic
3 large Carrots (peeled and diced)
1 small Onion (chopped)
500 ml Vegetable stock
¼ cup Milk
Salt and pepper to taste
Optional: Fresh coriander leaves (to garnish)
Method
Heat the oil in a large pot. Add onion, garlic, carrot and ground coriander and sauté for 3-4 minutes.
Add vegetable stock and simmer for 10- 15 minutes or until the carrots are soft.
Puree the mixture and add milk. Heat without bringing to boil.
Adjust the seasoning to taste.
Serve warm with sprinkled coriander on top.
Tip: You could easily double this recipe and freeze some for another meal.
Vegetable stock can be purchased in vacuum packed containers or made using 1 t of vegetable stock powder per cup of hot water.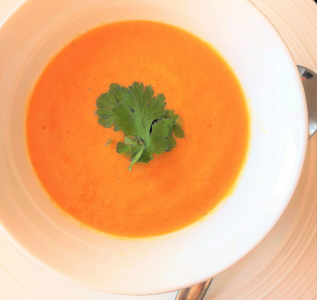 Quick & Easy Minestrone Soup
Serves 2-3
Ingredients
1 T Oil
2 t Minced garlic
1small Onion (diced)
1x 425g can Tomatoes (chopped /diced)
1 ½ t Vegetable stock powder
1 ½ cups Water
1 t Dried mixed herbs
1/3 cup Dried pasta
½ cup Mixed frozen vegetables
1x 400g can Mixed beans or red kidney beans (drained)
Salt and pepper to taste.
Juice of ½ lemon
2 T Parmesan or tasty cheese
Small handful of fresh herbs to garnish.
Method
Heat oil in a large saucepan. Add onion and garlic and cook for 2-3 minutes or until soft.
Add tinned tomatoes, vegetable stock powder, water and dried herbs. Bring to boil.
Stir in pasta and cook for 10-15 minutes or until pasta is cooked.
Add frozen vegetables and tinned beans. Cook for another 3 minutes or until they are heated through. Add lemon juice.
Adjust seasonings to taste.
Sprinkle with grated cheese and finely chopped fresh herbs.
Serve warm crusty bread
Tip: Substitute fresh vegetables such as tomatoes, beans, courgettes and red peppers for tinned and frozen foods when plentiful and cheap. Add 100g diced tofu to create a protein rich meal.