You are here
Salads & Dressing
Lemon Salad Dressing
Makes ½ cup
Ingredients
3 T Sour cream
2 t Grainy mustard
½ cup Plain yoghurt (unsweetened)
1T Lemon juice
Pinch of salt and pepper
Method
Place all ingredients together in a jar and mix until smooth.
Store unused dressing in the refrigerator for up to 3 days.
Tip: Either mix dressing immediately before serving or serve the dressing separately.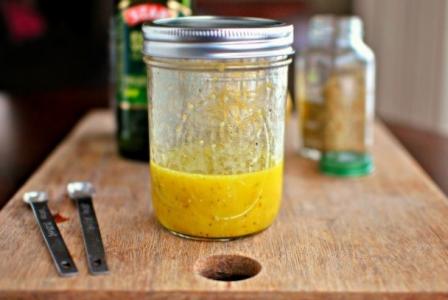 Summer Salad & Winter Slaw
For the Summer Salad
Choose lettuce and at least three of the following ingredients:
Tomato (diced)
Red, green, yellow pepper (de-seeded and
sliced)
Cucumber (sliced)
Avocado (diced)
Carrot (grated)
Bean sprouts
Red onion (sliced)
Olives or gherkin (sliced)
Method
Wash lettuce, shake off excess water and tear into pieces. Mix all ingredients in
a bowl and chill slightly before serving. Serve with lemon salad dressing.
Tip: Add croutons to the salad for extra crunchiness
For the Winter Slaw
Red or White Cabbage and at least 3 ingredients from list below:
Carrot, grated
Apple, diced
Celery, chopped
Red or green pepper, thinly sliced
Parsley, chopped
Raisins
Sesame and sunflower seeds (lightly toasted)
Method
Wash vegetables.
Finely slice the cabbage and place in bowl. Add remaining salad ingredients of choice.
Use a premade mayonnaise, supermarket mayonnaise or tangy lemon salad dressing
Add dressing and mix well. Sprinkle with sesame and sunflower seeds. Garnish with fresh herbs or sliced spring onion.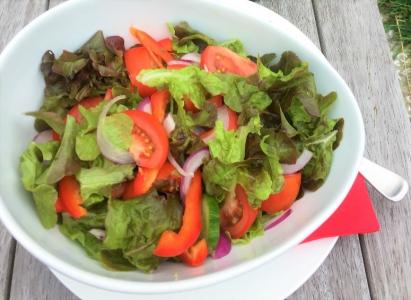 Mexican Salsa Salad
Serves 2
Tangy Salad Dressing
4 T Lemon juice
4 T Olive oil (or oil of choice)
1 t Sugar
1 t Minced garlic
2 t Grainy mustard
1 t Salt
Pinch of Black pepper
Method
Put all ingredients together in a screw top jar and shake well.
Store unused dressing in the refrigerator.
Mexican Salad
1 can (425g) 4-Bean mix, drained
1 can (410g) Whole kernel corn, drained
1 small Red onion, finely sliced
3 T Mint, chopped
3 T Parsley, chopped
3 Spring onions, thinly sliced
¼ Medium cucumber, diced
2 large Tomatoes, diced
1 Red pepper, diced
2 T Sesame seeds, toasted (optional)
1 Avocado, diced (optional)
Method
Place all ingredients in a bowl. Toss lightly with salad dressing and serve.
This makes a large salad. Place leftovers in a sealed container in fridge. Delicious for lunch or dinner.
Tip: Mexican Salsa Salad goes well with Chilli Con Carne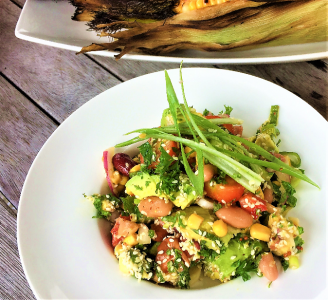 Beetroot, Feta & Balsamic Salad
Serves 2
Balsamic Dressing
2 T Olive oil (or oil of choice)
2 T Balsamic vinegar
1 clove Garlic crushed
1 t Honey
1 t Grainy mustard
Salt and black pepper to season
Method
Whisk all the ingredients together until all ingredients combine and turn glossy.
Tip: Alternatively, you can use store bought Light Balsamic Salad dressing or make dressing using freshly squeezed lemon juice instead of balsamic vinegar
Salad
½ can (450g) Tinned beetroot, diced
50 g Feta cheese (diced small)
½ Capsicum (Thinly sliced)
1 handful Rocket or spinach leaves (washed)
2 T Sunflower seeds
Parsley to garnish
Method
Drain the beetroot in a colander. Place diced beetroot, feta, sliced capsicum, sunflower seeds and rocket leaves in a medium sized bowl. Pour balsamic dressing over the salad and toss lightly.
Garnish with finely chopped parsley and refrigerate until use.
Tip: You can use freshly cooked diced beetroot instead of tinned to produce a brighter looking salad.
To prepare beetroot for cooking, wash, remove ends and quarter beetroot. Place beetroot in a saucepan with sufficient water to cover. Cover and simmer until tender.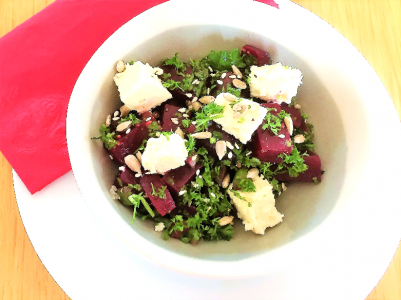 Roast Vegetables & Wholegrain Salad
Serves 4
Ingredients
1 cup Cooked brown rice/couscous/bulgur wheat
1 Red onion (thickly sliced)
1 cup Pumpkin (diced)
1 Courgette (thickly sliced)
1 Red and yellow capsicum (thickly diced)
1 T Olive oil (or oil of choice)
Salt and pepper for seasoning
Tangy lemon salad dressing
Method
Pre-heat oven to 200 °C.
Cook the rice or couscous according to instructions on the packet.
Season the chopped vegetables in salt, pepper and olive oil. Place vegetables in a baking tray. Roast for 25 - 30minutes, turning occasionally, until vegetables are tender. Cool.
To serve, toss cooked rice, roasted vegetables and dressing together in a bowl. Garnish with fresh herbs.
Tip: You can use other root- vegetables e.g. Kumara, carrots, potatoes.