You are here
Red Meat Meals
Chilli Con Carne
Serves 2
Ingredients
4 t Oil
1 small Onion (peeled and diced)
½ t Garlic (minced)
250 g Lean beef mince
2 T Sweet chilli sauce or a pinch of chilli
can (420g) Baked beans
2 T Tomato paste
½ cup Water, red wine or beef stock
2 cup Vegetables (finely chopped carrots, capsicums, mushrooms, courgettes)
Salt and pepper to taste
Method
Heat oil in a saucepan. Add onion and garlic. Cook for 2 – 3 minutes or until onion is golden.
Add mince and continue cooking until mince is browned and no longer in clumps.
Add chilli powder or chilli sauce, baked beans, tomato paste and water (or wine or beef stock). Cook over a gentle heat for 10 minutes.
Add vegetables and extra water if necessary and cook for further 10 – 20 minutes.
Check seasoning and adjust to taste.
Garnish with topping of choice (tomato salsa, sour cream, grated cheese, chopped herbs, and pita crisps).
Serve with cooked rice or mashed potatoes.
Tip: Carrots and courgettes can be grated to make it easier to cook and eat. Leave skin on to maximise nutritional content.
Leftovers can be use in potato topped pie, tortilla wrap or toastie pie filling.
Cottage Pie
Serves 2
Ingredients
1 T Oil
½ Onion, finely diced
250g Beef or lamb mince
1 T Flour
2 t Tomato Sauce
2 t Chutney or Relish (optional)
1/3 cup Liquid stock
1½ cups Frozen or fresh vegetables
2 Potatoes, boiled and mashed
2 t Butter
¼ cup Cheese, grated
Salt and Pepper to taste
Method
Preheat oven to 180°C.
Heat oil in a large fry pan. Add onion and cook until tender. Add mince and cook until browned. Stir in flour and cook for 1 minute.
Add tomato sauce, chutney, and stock. Bring to the boil, reduce the heat and simmer for 5 minutes. Add the vegetables simmering until cooked.
In a separate bowl, combine mashed potatoes, butter, and cheese. Mix until smooth.
To assemble place mince on the bottom of oven proof dish and top with potato mixture. Bake for 20 minutes at 180°C.
Tip: to make this a complete meal add 1½ cups of frozen or fresh vegetables (grate carrots, courgettes, diced celery, peas) to the mince mixture before simmering for 5 minutes.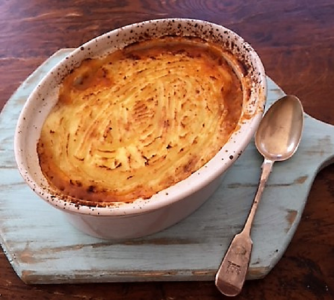 Healthy Boil Up
Ingredients
3 L Water
300g Lean beef, chicken or pork, cut into bite sized pieces
1 Onion finely chopped
2 cloves Garlic, crushed
3 medium Potatoes or kumara cut into small pieces
¼ medium Pumpkin cut into cubes
3 cups Fresh vegetables (carrots, peas, corn, celery, green beans, red capsicum), thinly sliced
6 cups leafy greens Silverbeet, spinach, puha or cabbage thinly sliced
can (400g) Legumes drained (kidney beans, lentils, chick peas)
Method
In a large pot add meat, onion, garlic and stock powder. Gently bring to the boil.
Add prepared root vegetables and simmer for approximately 20 mins until soft.
Add green leafy vegetables and tinned beans. Cook for a further 10 minutes until soft
Skim off any fat and season to taste.
Serve with homemade bread or crunchy wholegrain bread.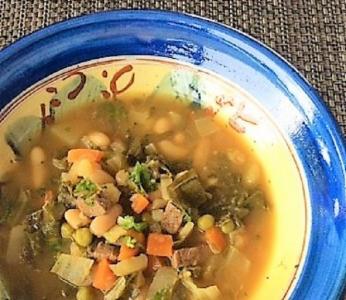 Kiwi Burger
Serves 4
Ingredients
400 g Lean beef mince
1 Onion finely diced
1 Egg lightly beaten
(medium) Grated carrot
(medium) Courgette grated (optional)
2/3 cup Dry breadcrumbs
1 t Mixed herbs
4 T Flour
Salt and pepper to season
2 T Oil
½ cup Grated cheese or 4 cheese slices
4 wholemeal bread rolls
Lettuce, tomato, sliced red onion, avocado, cucumber and beetroot
Method
Combine all the ingredients together in a bowl. Mix well.
Divide the mixture into 4 patties, flatten and roll in flour.
Cook patties in a preheated pan until the juices run clear and patties are golden brown on both sides (approximately 6 minutes per side). Turn over halfway through cooking.
Place cooked patties in wholemeal bun with mayonnaise, washed lettuce, sliced tomatoes, sliced red onion or caramelised onion, grated beetroot, avocado and grated cheese. Optional extra – lightly fried egg.
Tip: Mould patties using dry hands then make a slight dip in the centre. Run a thin knife under patties to lift to pan for cooking.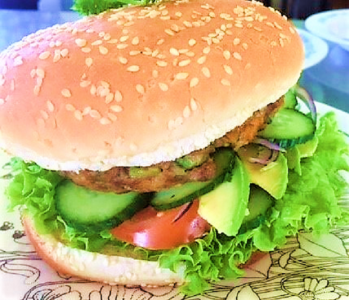 Pan-Fried Steak with Rosemary Potato & Tomato Relish
Serves 2
Steak
250 g Beef steaks (Tenderloin Filet)
4 t Olive Oil
Salt & Pepper to taste
Place the steaks on a plate and season with salt and pepper. Brush with olive oil. Let stand while preparing the relish.
Rosemary Smashed Potatoes
2 Potatoes (washed, peeled and diced)
1 T Fresh rosemary (minced)
Cook potatoes on High in the microwave for 4 minutes. Crush cooked potatoes with a fork and stir through the rosemary.
Cooked Tomato Relish
8 Cherry tomatoes (halved)
1-2 T Fresh rosemary (minced)
1 T Olive oil
1 T Balsamic vinegar
¼ Red onion (minced)
Salt and pepper to taste
In a small bowl combine all the ingredients for the tomato relish together.
Method
Warm a large frying pan over high heat. Add the steaks and cook as desired, 3–4 minutes on each side for medium-rare. Transfer the steaks to a cutting board.
Add the tomato relish mixture to the frying pan and cook until just heated through, stirring up any browned bits, cook about 1 minute.
Serve with Rosemary Potatoes on the side with Tomato Relish on the top of the Steak.
Tip: Use leftover beef for sandwiches or toasties the next day.