You are here
Puddings
Chia Seed Pudding
Serves 2
Ingredients
4 T Chia seeds
4 T Water
6 T Lite coconut milk
6 T Sliced apricots and/or feijoas
1 t Honey
Method
Soak the chia seeds in water for 5 - 10 minutes or until the seeds start to swell.
Stir in coconut milk let and leave it in the fridge for 5-10 minutes until it turns into a gel texture.
Serve with fruit on top with a drizzle of honey.
Tip: Any fruit works well - choose something in season. For a variation try bananas served with Greek yogurt.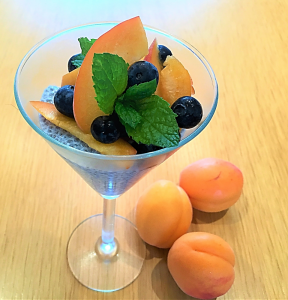 Custard
Makes 1 cup
Ingredients
1½ T Custard powder
1 T Sugar
1 cup Milk
½ t Vanilla essence
Method
In a saucepan, off the heat, stir ¼ cup of the milk slowly into the custard powder and sugar mixture so that there are no lumps.
Add remaining milk and stir well.
Heat until boiling and then simmer for 2-3 minutes or until thickened. Stir constantly.
Add vanilla essence stir well.
Microwave option
In a large microwave-safe jug or bowl mix ¼ cup of the milk with custard powder and sugar.
Stir remaining milk into custard mixture. Cook on high power for 1 ½ minutes. Stir well and cook for another 30 seconds or until thickened. in vanilla essence.
Serve immediately or cool quickly by standing the saucepan/jug in cold water.
Tip: Press plastic food wrap or waxed paper on the custard when cooling to prevent skin forming on the surface. If a thicker custard is wanted add 2 T of custard powder: 1 c milk.
Variations
Banana Custard: Increase custard powder to 1 ½ T. Cool custard slightly, and then pour over 1 large or 2 small sliced bananas.
Almond Custard: Add ½ to 1 t almond essence to cooked custard.
Chocolate Custard: Mix 1 T cocoa with custard powder and increase the sugar to 1 T.
Trifle: Cut a 20 cm square sponge cake into cubes. Spread each piece with raspberry jam. Break up the sponge cubes into small pieces and place at the bottom of glass bowl. Sprinkle with 1½ cups of fresh berries or 1½ cups of tinned chopped peaches. Pour over the cooled custard. Spread with 1 cup of whipped thickened cream. Sprinkle with grated chocolate and fresh berries.
Photo image - source:https://fthmb.tqn.com
Tropical Sago Pudding
Serves 5 – 6
Ingredients
½ cup Sago
2 ½ cups Water
Pinch salt
¾ cup Lite coconut milk
3 T Palm sugar (or white sugar)
Fresh seasonal fruit to serve
Method
Rinse sago in cold water to remove excess starch and drain. Bring sago, salt and water to the boil, stirring constantly. Simmer 7 – 8 minutes until thick and the sago pearls have turned translucent.
Remove from heat and stir in the sugar and coconut milk. Pour into bowls and serve warm, or chill. It is delicious either warm or cold. Top with extra coconut cream if desired, and fresh fruit.