You are here
Healthy Bites
Savoury Muffin Quiches
Serves 8
Ingredients
Filling
2 Eggs
½ cup Creamed corn (can)
½ Capsicum (finely diced)
½ cup Edam cheese (Grated)
2 T Parsley, chives or spring onions (chopped)
Salt and pepper to taste
Base
8 Slices wholemeal bread (crust removed)
Marmite or vegemite (to spread)
Method
Preheat oven at 190°C.
Mix all the filling ingredients together in a bowl and set aside.
Flatten the bread using a rolling pin. Spread Marmite or Vegemite on one side of the bread.
Lightly grease muffin tins with a pastry brush and oil or spray.
Place the bread into the oiled muffin pan with the spread side facing up. Spoon the filling into the base.
Bake in oven for 15 - 25 minutes.
Tip: Add left over creamed corn to soup, frittata, quiche, savoury muffin or serve with an omelette.
Crusts can be placed in the oven and baked to make breadcrumbs while the quiches are cooking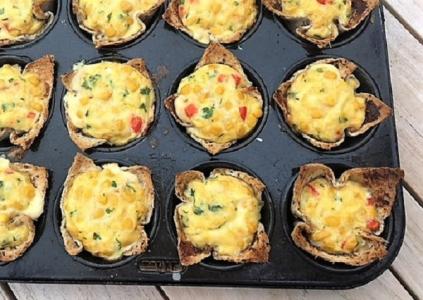 Vegetable & Tuna Fritters
Serves 2
Ingredients
Lemon
Eggs
6 T* Flour
2 T Vegetable Oil
small can (95g) Tuna (Liquid drained)
1 ½ Cups Freshly grated carrots and courgettes (squeeze and remove excess juice from vegetables) **
Salt, pepper and lemon zest for flavour
Method
Finely grate the skin of one lemon.
Mix the eggs into flour until just combined. Stir in the tuna, vegetables, lemon zest and season with salt and pepper.
Heat the vegetable oil in a frying pan over medium heat.
Place a spoonful of the mixture into the preheated pan. Cook until golden brown. Flip gently and cook on the other side until golden brown.
Serve warm with your choice of salad.
*Measurements are level
** This recipe also works well with creamed corn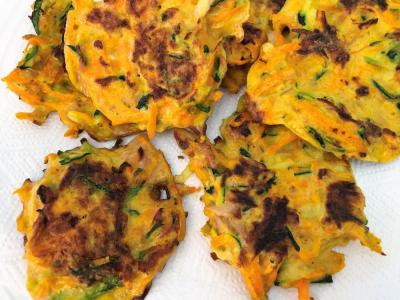 Pea Pesto
Ingredients
1 cup Frozen peas (regular, baby, minted or plain)
3 T Grated parmesan cheese
2 cloves Garlic
1 T Lemon juice
½ cup Mint (or basil, parsley)
2 T Olive oil
Salt and pepper to taste
¼ cup Cashew nuts (or roasted almond, walnuts)
Method
Cook the peas in a small saucepan of water until soft (don't overcook). Drain and set aside.
Place parmesan cheese, garlic, lemon juice, mint, salt and pepper in blender and mix until combined.
With the blender going add cooked peas and steam in the olive oil. Blend until the desired consistency is achieved.
Serve warm stirred through pasta or cooled with crackers, pita crisps, fresh bread, or vegetable sticks as part of a platter.
Tip: To make food platter, include cherry tomatoes, avocado slices, olives, smoked fish or cured meats and crackers / pita crisps.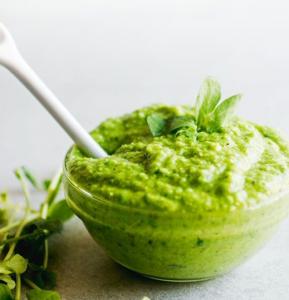 Spinach, Tomato, Cheese & Onion Toasties
Serves 1
Ingredients
2 slices Wholegrain bread
1 t Margarine
¼ cup Spinach
½ Tomato (sliced)
¼ small Red onion
2 T Edam cheese (grated)
Method
Pre-heat oven grill to 190°C.
Spread the margarine on the bread slices. Place the fillings on one slice of bread then top with another slice. Toast in oven turning over half-way through, for 3-5 minutes, or until golden.
Other toasties options:
- Canned Tuna with tomato, red onion and cheese
- Baked beans with cheese and spring onions
- Mushrooms, tomato, cheese and red onion
- Capsicum, cheese and tomato
Serve toasties with a small fresh salad on the side.
Tip: Alternatively use an electric toasty pie maker for a quick and easy option.