You are here
Fish Meals
Honey Mustard Baked Salmon
Serves 2
Ingredients
4 T Wholegrain Mustard
2 T Honey
2 T Lemon Juice
1 t Lemon zest
2 Salmon Fillets
2 T Capers, diced
Method
Pre-heat oven to 220°C.
In a small bowl mix, together wholegrain mustard, honey, lemon juice, capers and rind.
Rub the honey mustard mixture over the flesh of the salmon fillets and place flesh side up on an oven tray lined with baking paper.
Bake for 8 - 12 minutes (depending on thickness) until opaque in appearance or until covered with small "white beads" on top.
Transfer salmon to serving plate. Serve with mashed potato and side salad.
Microwave option
Prepare salmon as above and place in a microwave-safe dish.
Cover and cook on medium-high power for 4-6 minutes. Allow to stand for 2 minutes before serving.
Serve with mashed herb potatoes, steamed vegetables or a fresh salad with lemon salad dressing.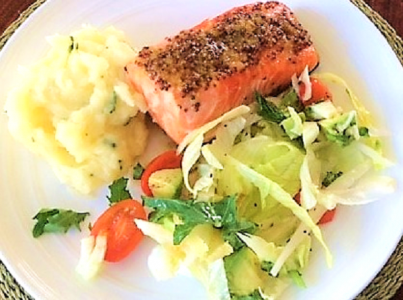 Potato Topped Tuna Mini Pies with Steamed Beans
Serves 2
Potato Topping Ingredients
2 Large Potatoes (peeled and cut into chunks)
3 T Milk
2 t Margarine
Pinch Salt
Method
Boil potato for 20 mins or until soft. Drain.
Mash potato and add milk, margarine and salt. Mix well.
Tuna Filling Ingredients
1 Packet Cheese Sauce Mix
1 can Tuna (185g)
½ cup Frozen Peas
2 Hard-Boiled Eggs, sliced
4 T Cheese, grated
Method
Pre-heat oven to 180°C.
Make the cheese sauce according to the instructions on the packet. Set aside in a large bowl.
Mix tuna, eggs, and frozen peas with the cheese sauce. Place the mixture into an ovenproof dish.
Top with mashed potatoes and sprinkle with grated cheese. Bake for 30 minutes.
Serve with steamed frozen beans.