You are here
Bakery
Fruit Cake
Ingredients
1 kg Mixed fruit
2 cups Black Coffee (Substitute with ginger ale if preferred)
2 cups Self-raising flour (or gluten free + 2 tsp Baking Powder)
2 t Mixed spice
A few drops of Almond or Vanilla Essence
Method
Soak the fruit overnight in the coffee. You can replace a small amount of the liquid with Rum, Brandy or Port/Sherry.
The next day sift in the flour and spices and stir until just combined.
Double-line a 250mm square or round cake tin with baking paper.
Bake at 150°C for 1 ½ to 2 hours until a skewer tests clean.
Cool in the tin.
Tip: This cake freezes well or alternatively you can spoon the mixture into muffin trays and cook for ½ hour.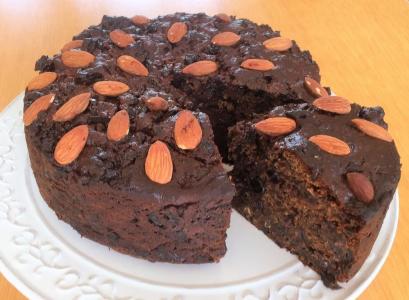 Fruit Crumble
Serves 2
Ingredients
½ cup Rolled oats
4 T Flour
3 T Brown sugar
½ t Cinnamon or mixed spice
3 T Margarine or butter, melted
1 cup Fruit (canned or stewed, drained) or
Fresh fruits sliced thinly (feijoa, peach, apricot and plum)
Method
Pre-heat oven to 170°C.
Combine rolled oats, flour, brown sugar and spice in a bowl. Add margarine or butter and mix until evenly combined.
Place fruit in a small ovenproof dish. Sprinkle crumble topping over fruit and cook for 20 – 30 minutes or until topping is golden brown and crisp.
Serve with yoghurt or custard.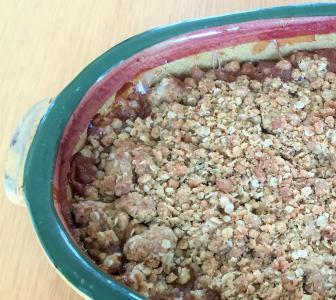 Overnight Bran Muffins
Ingredients
1 ½ cups Flour
1 t Baking soda
1 t Mixed spice
1 ¾ cups Bran Flakes
¾ cups Brown sugar
2 cups Plain yoghurt (Unsweetened) or
1 cup yoghurt and ¾ cup low fat milk)
½ cup Vegetable oil
Egg
½ cup Dried fruit of choice, chopped if necessary (e.g. apricots)
1 cup fresh fruit of choice, chopped or mashed (apple, pear, feijoa, rhubarb, frozen berries)
Method
Sift flour, baking soda and mixed spice into a large mixing bowl. Stir in bran and brown sugar.
In a separate bowl, whisk together yoghurt, oil and egg and stir into dry ingredients to combine. Cover and refrigerate overnight.
Heat oven to 180°C.
Spoon mixture into greased muffin pans to almost full. Bake for 20-25 minutes.
Flavour suggestions
Banana and date
Feijoa and ginger
Apple raisin and walnut
Rhubarb and coconut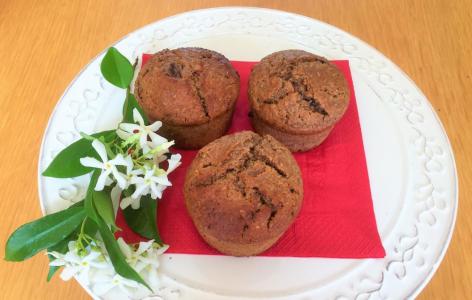 Pikelets
Ingredients
2 cups Flour
2 t Baking powder
½ t Salt
Eggs
½ c Sugar
1½ cups Milk, approximately
Method
Sift the flour, baking powder and salt into a bowl.
In another bowl beat the eggs and sugar with a whisk until pale and thick.
Add the egg mixture and the milk to the dry ingredients and mix until just combined.
Gently heat a non-stick frying pan and drop large spoonful's of the mixture from the point of the spoon onto the surface.
When bubbles start to burst on the top of the pikelets, turn them over and cook the second side until golden. Place in a clean tea towel to keep warm until they are all ready to serve.
Serve with fresh fruit and yogurt or whipped cream and jam.
Serve with maple syrup/ runny honey, sliced bananas or other seasonal fruit and coconut
Variation: Substitute ½ wholemeal flour or ½ rolled oats instead of flour and add ½ teaspoon cinnamon and 1 mashed banana to mixture.
Oat pancakes: use ½ c flour, 1 t baking powder, 2 T sugar. ¼ t salt. ¾ c rolled oats. 1 egg (beaten lightly with fork), 2 T melted margarine and ¾ c milk. Place dry ingredients in a bowl, add liquid ingredients and mix to gently to combine. Place ¼ c of mixture in a moderately hot non- stick pan. Cook until bubbles form, then turn and cook for a further 1-2 minutes.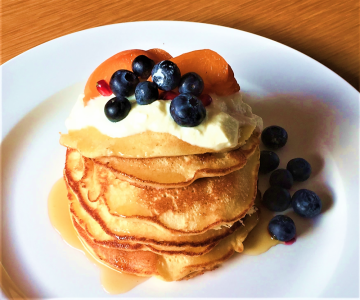 Scones
Makes 12
Ingredients
3 cups Flour
6 t Baking powder
1/4 t Salt
75 g Butter
1- 1 ½ c Milk
Method
Preheat oven to 220°C and line a baking tray with baking paper.
Sift flour, baking powder and salt into a bowl. Rub in the butter with your fingertips until the mixture resembles fine bread crumbs. Make a well in the centre of the dry ingredients. Add the milk and quickly mix with a table knife to form a soft dough.
Turn the dough out onto a lightly-floured bench. Pat dough out to 2cm thickness Cut into approximately 12 pieces and lift each onto the baking tray. Brush the tops with milk.
Bake in a preheated oven for 10minutes or until golden brown. Remove and cool inside a clean tea towel to help keep their freshness.
Tip: To make cheese scones, add 1 ½ cup grated cheese and a pinch of cayenne pepper.
To make sultana or date scones, add 1½ cups of sultanas or chopped dates and finely grated lemon rind from 1 lemon
Wholemeal flour can be substituted for white flour if desired.