You are here
OH! SODA - Big on taste, changing the game on sugar!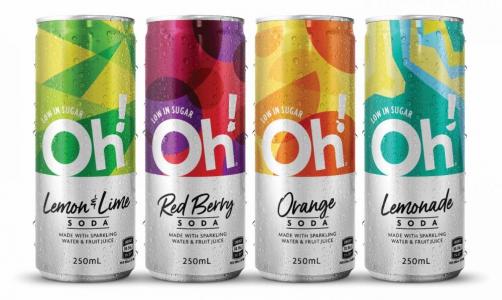 Half of what we drink by 2030 will be very different to what is consumed today. At Frucor Suntory we are hungry to make drinks better! We have a commitment to extend our range of reduced and no sugar drinks in line with what consumers are looking for, with the taste experience being second to none.
More than half our new product development programme already focuses on low, reduced and zero sugar beverages and our current portfolio offers more than 100 sku's across 14 brands that are 'better for you' choices. Our marketers and developers are considering what the next generation of drinks will look like, how these will taste, offering hydration, nutrition and fun experiences while improving our packaging choices and reducing the effect of plastic on our environment. We're up for the challenge of creating great tasting drinks which meet consumers changing needs.
Some of you may already be familiar with the OH! Soda project. Developed in 2015, this range of flavoured sparkling spring waters was recently given a make-over with a fun new modern design. Consumers told us they were confused as to what it was and told us they wanted a flavour hit that delivered like a soda, so part of the refresh was an improved and better tasting recipe.
The new Oh! Soda contains a splash of fruit juice, natural fruit flavours and is sweetened with stevia. The advertising creative, "Big on taste, so little sugar" positions the product as a great swap from regular soft drinks which can have up to seven teaspoons sugar per 250ml serve. Oh! Soda has less than ½ teaspoon sugar per 250ml serve so that's a whole lot less if you are looking to reduce your sugar intake.  It is tipped as the perfect choice for teens over the winter ball season, particularly when alcohol is banned at school events. 
Many of you will be familiar with stevia – a widely used plant-based sugar replacement. The objectionable licorice taste in earlier products containing stevia have been superseded with advances in sweetener technology, allowing these products to mimic sugar more closely and improving the flavour profile significantly.
So now, we have a family of OH! which includes a slim-line 250ml recyclable aluminum can, a 500mL bottle plus a 1.25L bottle for sharing. We are currently working to minimize the volume and weight of our packaging and to increase our use of recycled content with a commitment towards 100% of our packaging to be reusable, recyclable or compostable by 2025.
Here's what makes up our Red Berry soda:
Carbonated Water, Reconstituted Fruit Juice [Raspberry Juice (3.4%), White Grape Juice (3%)], Sweetener (Erythritol), Natural Flavours, Acidity Regulators (Citric Acid, Sodium Citrate), Natural Colour (Anthocyanin), Preservative (Potassium Sorbate), Natural Sweetener (Stevia).