You are here
Summer Holidays Eating
Holidays mean gatherings with family and friends, celebration and treat foods often away from home - all in the fabulous New Zealand sun. It's easy to keep healthy with our holiday nutrition and food safety tips.
Top 5 tips for happy eating on holidays
Keep your portions small
It takes 20 minutes for your stomach to tell your brain that it's full. So select smaller portions then wait a while to see if you really need that second helping.
Don't be tempted to try everything at the buffet table
You don't have to fill up your plate on the first pass of the buffet table. Look for the healthier options, and make them the biggest part of your meal.
And if you are watching your weight, don't forget to have a little bit of your favourite dessert!
Drink lots of water.
Did you know a large percentage of headaches are caused by dehydration? Alcohol has lots of energy (kilojoules) so by having a glass of water in between drinks you'll be helping both your head and waistline.
Take your own healthy food to parties
A bowl of hummus or lower-fat dip with chopped vegetables and low-fat crackers is ideal for nibbles.
Take advantage of summer fruit – a plate of berries with yoghurt dipping sauce or a colourful fruit salad is a delicious dessert.
Use those legs
Make the most of summer sunshine - play cricket with the kids, walk along the beach, take the dog to a new park and keep active. Remember it's how much we move as well as what we eat and drink in the quest for healthy weight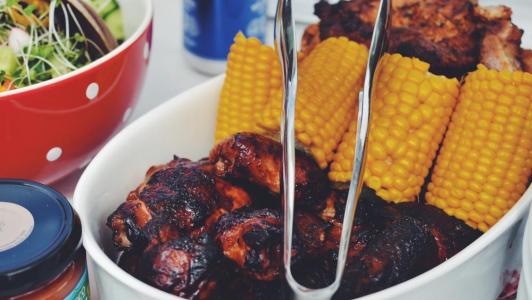 Quick tips to make your food safe this summer
Summer is the time to be outdoors, perfect for barbeques and picnics. Handling and storing food safely is the key to avoiding sickness from bugs.

Wash your hands properly before touching food

Precook chicken, meat patties and sausages before cooking on a barbeque

Don't use the same plate to carry raw and cooked food, and use separate utensils.

Prepare food as close as possible to eating time

If you are taking food on a trip, keep it cool in a chilli bin

Don't leave food out of the fridge for too long before eating

Refrigerate leftovers as soon as possible, and when you reheat, make sure they are steaming all the way through.
Want more information on food safety? Read MPI Enjoy Food Safely Over Summer